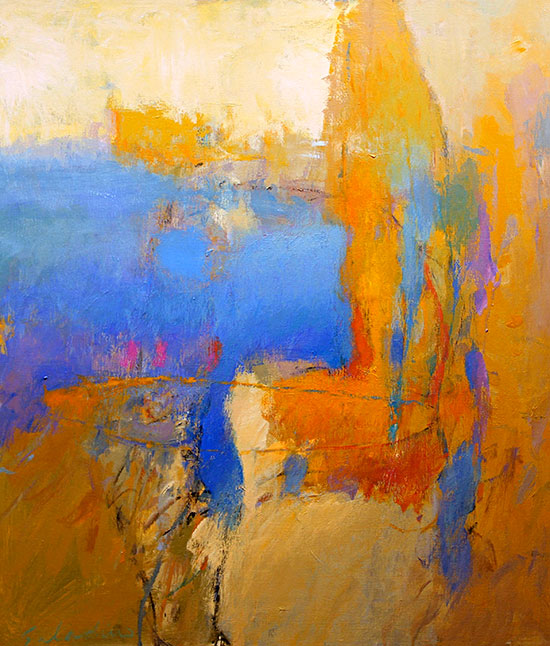 'Shostakovich #1'
TONY SALADINO
Statement
"I enjoy the risk taking aspect of doing varied themes, and shifting from medium to medium. While I consider many of my pieces to be personal I am, nevertheless, concerned that the viewer sees images that are universal enough to compel him or her to keep looking at the work.
An artist communicates an idea, or feeling, or tries to make connections. I hope each piece possesses a spatial energy that compels a viewer to look, and that the images are universal enough to be compelling."
– – –
Mr. Saladino's work is in the collections of the National Museum of Fine Arts, Hanoi; University of Wisconsin, Parkside; University of Dallas, Wichita Falls Museum, Museum of International Art, Bahia, Brazil; and the Museum of Art and Archaeology, University of Missouri. He is listed in Who's Who in American Art and Who's Who in the South and Southwest.
Education
BS, Louisiana State University in New Orleans
Selected Exhibitions
2012 – "A New Orleans Homecoming", Carol Robinson Gallery
2012 – The 2012 FWCAC Biennial – Fort Worth Community Art Center – Fort Worth, Texas
2012 – A New Beginning: The Vernal Season, Harrington Brown Gallery, Memphis, Tennessee
2012 – Paintings form the Heart, Harrington Brown Gallery, Memphis, Tennessee
2012 – Self Portrait Show, Fischer Gallery, Jackson, Mississippi
2011 – The Abstract Monotypes, B Deemer Gallery, Louisville, Kentucky (solo exhibition)
2010 – Group Show, Gallery Shoal Creek, Austin, Texas
2010 – Abstracted Landscapes, Buchanan Gallery, Galveston Island, Texas
2009 – In Bloom / An Installation / Flora Arte + Fine Art, Gallery Shoal Creek, Austin, Texas
2009 – B Deemer Gallery, Louisville, Kentucky
2008 – Gallery Shoal Creek, Austin, Texas
2008 – A Centennial Celebration of Art in Lubbock, The Louise Hopkins Underwood Center for the Arts
2007 – "Eleven – A Medley of the Familiar…", Gallery Shoal Creek, Austin, Texas
2007 – "Terrain – An Abstracted View of the Landscape", Gallery Shoal Creek, Austin, Texas
2006 – "The Still Life – Two Points of View", Jack Meier Gallery, Houston, Texas –
2006 – B Deemer Gallery, Louisville, Kentucky
2006 – Taylor's Contemporenea, Hot Springs, Arkansas
2005 – "New Works", Fairmount Gallery, Dallas, Texas
2004 – Contrasting Views, Gallery at Shoal Creek, Austin, Texas
2004 – Feature Artist, "Preservation is the Art of the City", Fort Worth, Texas
2004 – Bank of America Award in Memory of Bror Utter
2004 – Milan Gallery – Fort Worth, Texas
2004 – Abstract Expressionists, Fairmount Gallery, Dallas, Texas
2003 – Award in Honor of Cynthia Brants – Preservation is the Art of the City
Selected Reviews/Articles/Books
2012 – Luxe Interiors and Design, Houston Issue, Winter
2010 – Kentucky Homes & Gardens
2007 – Downtown Living Fort Worth, Texas
2007 – Downtown Living, Fort Worth, Texas
2007 – Living with Panache, Fort Worth, Texas
2007 – Southwest Art Magazine
2004 – Austin American Statesman, Austin, Texas
2002 – Crosswinds Weekly, Albuquerque/Santa Fe, New Mexico
2000 – La Semana – Fort Worth, Texas
1996 – Who's Who in the South and Southwest
1989 – Who's Who in American Art, New York, New York
Public Collections
2005 – Texas State University- San Marcos, Texas
2004 – Fort Worth Library Foundation – Fort Worth, Texas
1994 – Wichita Falls Museum and Art Center – Wichita Falls, Texas
1991 – National Museum of Fine Arts, Hanoi, North Viet Nam
1990 – Parkersburg Art Center – Parkersburg, West Virginia
1990 – The Art Complex Museum – Duxbury, Massachusetts
1990 – University of Wisconsin – Parkside, Kenosha, Wisconsin
1989 – Nassau County Community College, Garden City, New York
1988 – McNeese State University, Lake Charles, Louisiana
1988 – University of Dallas, Dallas, Texas
1987 – University of Wisconsin – Parkside, Kenosha, Wisconsin
1986 – Museum of Art and Archaeology, University of Missouri
1986 – Hunterdon Art Center, Hunterdon, New Jersey
1986 – Museum of International Art, Bahia, Brazil
Private Collections
2012 – Whitaker Chalk Swindle & Schwartz PLLC
2012 – Seaton Medical Center – Harker Heights, Texas
2011 – M D Anderson Hospital – Houston, Texas
2010 – The James Rebman & Edgar Barkley Trust – Austin, TX
2010 – GXS, Inc. – Maryland
2007 – Caesar's – Indiana
2006 – Circle Theatre – Fort Worth
2005 – Bank of Laredo
2005 – Bacardi
2004 – Michael and Susan Dell Foundation – Austin, Texas
2004 – Winstead Sechrest & Minick P.C., Fort Worth
Amway Corporation – Ada, Michigan
Brown-Forman Corporation of Louisville, Kentucky
Tyson Foods
Teaching Experience
2008 – Workshop, Creative Art Connection, Bossier City, Louisiana
1992 – Painting, Modern Art Museum of Fort Worth
1991 – Imagination Celebration, Sponsored by the Kennedy Center for the Arts
1991 – Monotype workshop, Oxbow Summer School of Art, Saugatuck, Michigan