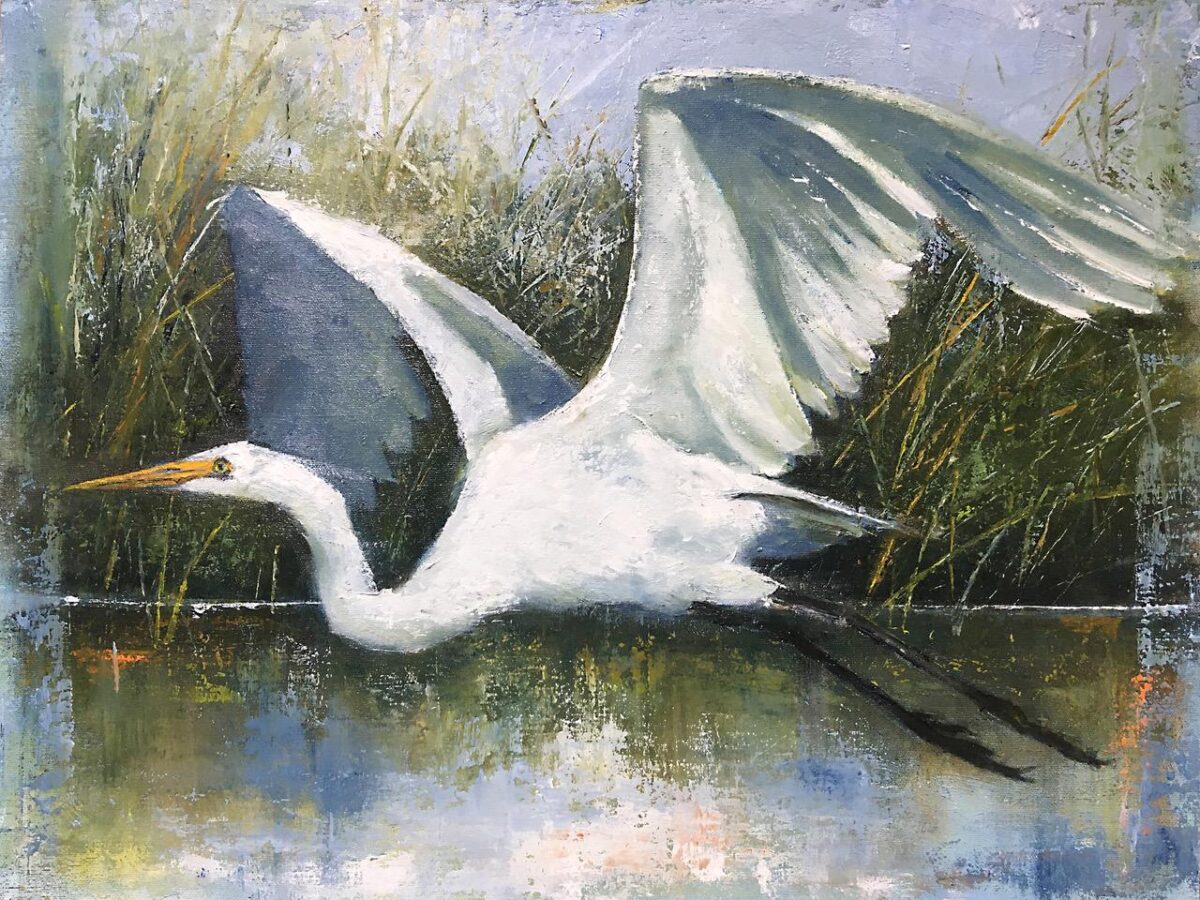 "Low Flyer"
DAVE IVEY
Statement
Bio
Born in Yokohama to a U.S. serviceman stationed in Japan after World War II, the young Ivey and his family often moved from one state to another before settling in North Louisiana during his high school years. Upon graduation, he studied graphic art at Louisiana Tech in Ruston, did a stint in the Navy, returned to North Louisiana to marry the girl back home, and launched a 35-year career as a graphic artist, illustrator and editorial artist for newspapers, magazines and advertising companies.
During that time his designs and illustrations have won numerous regional and national awards from the American Advertising Federation. In 1984 he was selected as the official artist by USA'84, the marketing sponsor for the United States Olympic Committee. Over a span of thirty five years while working as a designer and illustrator he began to explore painting as his creative diversion.
Since 2008, he has developed an insatiable desire to paint daily. Receiving instruction from noted painters Michael Dudash, Michael Workman and Fredericksburg Art School. While attending Plein Air Workshops at the Scottsdale Artist School sparked even more motivation on his path of expression. By exploring various visual approaches, Dave feels that he is developing as an artist and isn't limited to just one approach. The discoveries he makes along the way are what fuel his desire to paint.
Dave's paintings have received numerous awards in regional and national shows and has work hanging in private collections throughout the United States, Canada, Puerto Rico and Europe.
Dave paints out of his studio at his home he shares with his wife Cathey on their farm in Louisiana.
My paintings grow out of the southern rural life my wife and I enjoy close to our home in the country, where we are surrounded by horses, cows, and the many elements of the natural world. I know this world closely, and in my paintings I seek to render seemingly ordinary aspects of its landscape in ways that reveal their extraordinary character and beauty. I do not treat my subjects in a photo realistic manner. Instead, I seek to convey the atmosphere of a particular place at a particular time – the play of light, season, and time of day on the land and animals that inhabit it. My more recent works show this concern for atmosphere through looser brush strokes and the addition of colors to my palette to achieve a harmony of complementary warms and cools that permit me to convey the subtleties of light and time of day. My desire is those who view my paintings to do more than look at them, but to inhabit the world of each painting, to experience it fully.
Juried Shows & Exhibitions
Carol Robinson Gallery, New Orleans, LA
Allied Artists of America of New York
American Impressionist Society
National Oil and Acrylics, Best in America (Signature Membership)
Best Brightest, Scottsdale Artist School
Southwest Artist of America National Show
Louisiana State Exhibit Museum
Lincoln Parish Exhibit Center
River Road National Show
Hobbies
Camping, hiking, traveling and exploring the outdoors, motorcycles, horses, reading and, most of all, spending time with family
Best Friend
My wife, Cathey
Personal Motto
I can do all things through Christ.