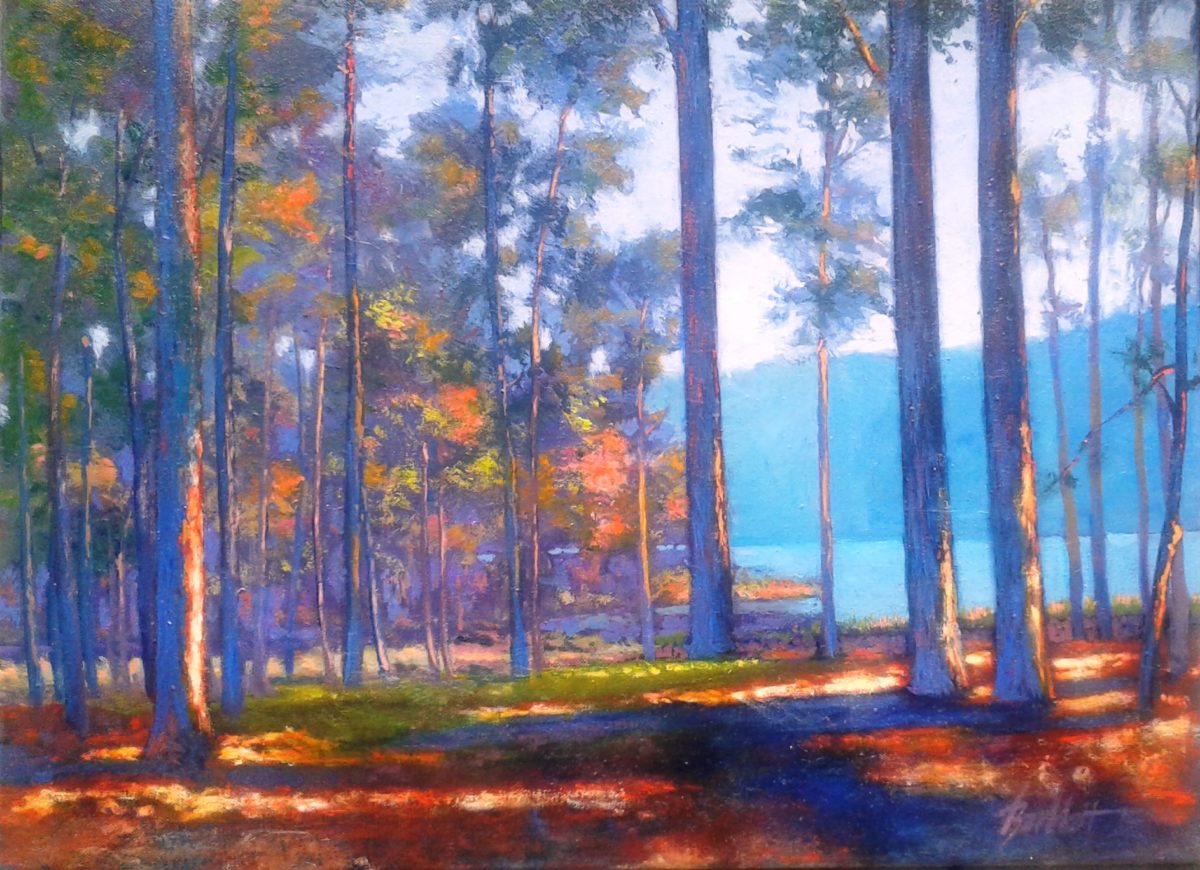 JACK BARTLETT
Statement
ORANGE EVENINGS, BLUE MORNINGS
I try to make artwork that results from something I have seen. Having become blind in one eye in 1994 made me much more appreciative of the gift of sight, so my art is not necessarily intellectual, conceptual, exclusively expressionistic, picturesque or clever but instead attempts to create visual revisitations of things I have seen and wish to place on loan so someone else can see them, not as they are but as I see, experience and want them to be, new again, recreated, amplified. Picasso said, "Art is a lie that lets us see the truth." So, I suppose I am revisiting a truth and hoping to enhance it.
I live on a lake and am surrounded by water, skies and woods and am able to see and appreciate nature as part of my environment. On each day of the year the water, woods and skies present themselves differently and offer an infinite variety of light, color, lines and textures. My location, positioned in the middle of nature as a sailor is in the sea, becomes an inexhaustible source of subject matter, much in the way that Cezanne's Mt. Saint-Victoire did for him when he painted 44 oil paintings and 43 watercolors of the same mountain in France. So day after day I can witness the complexities, miracles, beauty, and wonder at what Gerard Manley Hopkins called God's Grandeur.
I am not interested in copying what I see but rather to compliment it, in hopes of making the ordinary extraordinary and the mundane poetic. This is difficult because sometimes the ordinary remains ordinary and I have to restart and begin again in an effort to glorify sight. I am mostly interested in responding to my environment, to comment on it and escalate its riches, so in my monocular vision the late skies become Orange Evenings and the morning skies Blue Mornings.
"And for all this, nature is never spent;
There lives the dearest freshness deep down things;
And though the last lights off the black West went
Oh, morning, at the brown brink eastward, springs —
Because the Holy Ghost over the bent
World broods with warm breast and with ah! bright wings."

from Gerard Manley Hopkins'
God's Grandeur
Selected Exhibitions
2015 – Carol Robinson Gallery, New Orleans, LA
2004 – Texas Artist Museum, Port Arthur, TX
2002 – Summit One Gallery, Highlands, NC
2002 – Post Gallery, Houston, TX
2001 – Carol Robinson Gallery, New Orleans, LA
2001 – Brown's Fine Art, Jackson, MS
2001 – Loretta Goodwin Gallery. Birmingham, AL
2000 – Meridian Museum of Art, Meridian, MS
1999 – Chateau du Mung, Le Mung, France
Honors
2002 – 2014, Adjunct Professor, Panola College, Carthage, TX
1976 – 2001, Professor Emeritus, Mississippi State University, Starkville, MS
Artist in Residence, The Hambidge Center for the Creative Arts & Sciences, Rabun Gap, GA
1975 – Adjunct Instructor, El Centro College, Dallas, TX
Phi Kappa Phi Honorary Society, Mississippi State University, Starkville, MS
Publications
A Year of Prayers, WIPF and Stock Publishers, Eugene, OR, 2011
COLORS, Rexdale Publishing, Hackensack, NJ, 2002
Education
2000 – Master Class, Wolf Kahn Workshop, Great River Arts Institute, Walpole, NH
1992 – Independent Study, Instituto Allende, San Miguel de Allende, Mexico
1972 – Master of Fine Arts, Southern Methodist University
1970 – Bachelor of Fine Arts, Stephen F. Austin State University