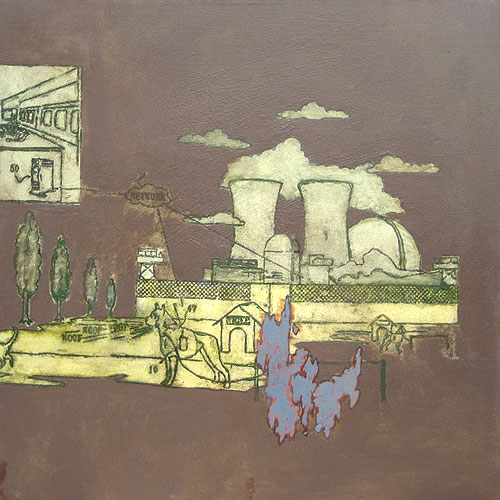 'Between Loss and Redemption'
JAMES KING
Statement
Something to Cling To
Clinging to objects is both absurd and very natural at the same time. I would be lying if I claimed to be beyond such behavior. However, I am not describing materialism or desperation, but complex, irrational symbolic associations.
Now that my childhood is too distant to seem real anymore, I find myself wanting to relive it vicariously through the bright, curious eyes of my young daughter. Not long ago, however, the slow, leaking forgetfulness of my childhood world and my small hometown was submerged by the fantastic, monstrous surge of a hurricane — rearranged by its huge silent wake — and set down like Lewis Carroll's Alice in Wonderland — strange, disturbing, and surreal. With this event my memory suddenly became transfixed and numb.
I am still numbed by the human tragedy and dislocation of communities and of dear friends; but, as an artist, I am grateful for the limitless imaginative potential the experience has given to me. This spectacular and horrible event that swept away reality for so many has brought me closer to powerful memories and a better understanding of myself.
Now that the physical, visual reminders and vessels of childhood memories, of houses where I lived and of schools, neighborhoods, and even playgrounds have been set free from their physical moorings, I can more easily "idealize" those memories. Simply put, I can never be reminded directly of their imperfections again. As unsettling as that statement may sound, I say it without cynicism or indifference. As much as I would like to cling to objective reality, that reality is constantly in flux: eroding, metamorphosing, bombarded and realigned by radiation, atomically charged or inert–in reality, change is more "reality" than stasis. Time is a simply a way of organizing change.
I have realized how memory is always active and alive: constantly reshaped by images, experiences, and by physical reminders. Wherever I live or travel, my memory seems to want to latch onto objects and endow them with meaning–tokens or reminders that possibly have a religious function. But, probably, these objects allow me to control and affect my own memory. If you find meaning in them, then maybe we share a common thread through time and experience. To me, these paintings are a reincarnation of the ancient household god: gods of limited, yet specific power, but with a necessary place. By representing something intangible, they provide something to cling to.
Selected Exhibitions
2007 – Something To Cling To (solo), Carol Robinson Gallery, New Orleans, LA
2007 – MFA Thesis Exhibition, Louisiana Tech University, Ruston, LA
2007 – 2nd Year Graduate Art Show, Business Enterprise Center, Ruston, LA
2006 – Work by Gallery Artists, Carol Robinson Gallery, New Orleans, LA
2006 – 1st Year Graduate Art Show, Fusion Gallery, Ruston, LA
2006 – Student Show (juried), Louisiana Tech University Art Gallery, Ruston, LA
2005 – 25th Anniversary Show, Carol Robinson Gallery, New Orleans, LA
2005 – Hydriotaphia, Barrister's Gallery, New Orleans, LA
2005 – James King: New Work (solo), Carol Robinson Gallery, New Orleans, LA
2004 – The Christmas Show, Carol Robinson Gallery, New Orleans, LA
2004 – Group Show, SPACE Gallery, New Orleans, LA
2004 – XY: Images of Men (juried), SPACE Gallery, New Orleans, LA
2003 – Fresh Art Festival, Arts Council of New Orleans, New Orleans, LA
Education
2007 – MFA, Painting, Louisiana Tech University, Ruston, Louisiana
1997 – BS, Zoology. Louisiana State University, Baton Rouge, Louisiana
2005 – Painting, University of New Orleans, began MFA program (relocated due to hurricane)
1999 – Painting, Glassell School, Museum of Fine Arts Houston
1998 – Painting, University of Houston
Awards/Honors
2005 – Graduate Teaching Assistantship, Louisiana Tech University, Ruston, LA
1992 – Honors Academic Scholarship, Louisiana State University, Baton Rouge, LA
Experience
2006-2007 – Instructor of record, Louisiana Tech University
Color Design/Intro Painting, Winter 2006-07, Spring 2007
2005-2006 – Graduate Teaching Assistant, Louisiana Tech University
Figure Drawing, Winter 2005
Figure Painting, Winter 2005
Color Design/Intro Painting, Spring 2006
Drawing Principles, Fall 2006