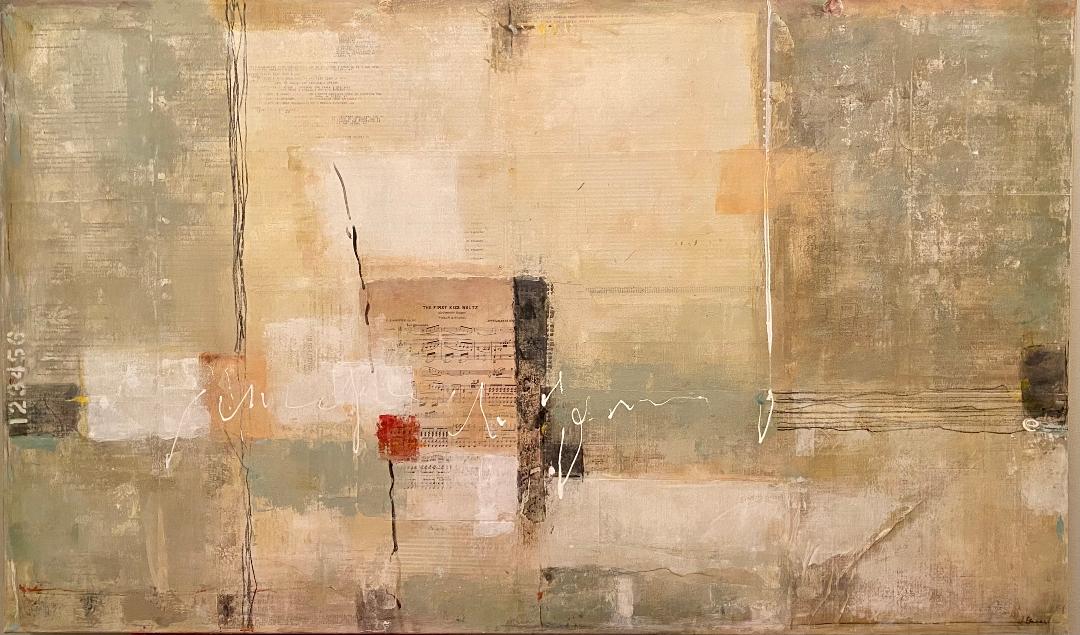 "First Kiss Waltz"-36″x-60″-mixed media on canvas.
JEAN GERACI
Education
BFA, University of New Orleans
BS Medical Technology, Loyola University, New Orleans
Statement
While studying fine art at the University of New Orleans, a professor told me, paint your life and the times because that is all you really know. So my paintings became a collage with notes and letters from my family and friends, computer printouts, sheet music and the daily news.
Living all of my life in New Orleans, the patina on the walls of old French Quarter buildings and the light of our long summer days is reflected in my work.
My paintings represent a family tapestry of my life.
Selected Exhibitions
2020-2011 – Carol Robinson Gallery, New Orleans
2020-2011, 2006 – 'Artists of Faith', Carol Robinson Gallery, New Orleans
2013-2010 – Nunnery's at Gallery 119, Jackson, MS
2010-2006 – Guthrie Contemporary, New Orleans
2007 – Guthrie Contemporary, Houston, TX
2005-1990 – Evans Gallery, New Orleans
2005-1990 – Taylor Clark Gallery, Baton Rouge LA
2005-2004 – Lyon and Lyon Fine Art, New Orleans
2005-2003 – seven-o-seven contemporary, Santa Fe NM
1990-1988 – Evans-Landry Gallery, Metairie, LA
1989 – 'Contemporary Women Artists' (slide presentation), New Orleans Museum of Art
1988, 1985, 1983 – St. Tammany Art Association 'Summer Show', Covington LA
1988 – 'Art for Arts' Sake', Contemporary Art Center New Orleans
1987 – 'Louisiana Women Artists', West Baton Rouge Museum Port Allen LA
1986 – 'Louisiana Now', Mini-Major Works Show, Contemporary Art Center, New Orleans
1984 – 2nd Miniature Exhibition, Contemporary Art Center New Orleans
1984 – 'Women and the Arts', National Women's History Week, Dominican College, New Orleans
1983 – 4th Louisiana Women's Art Exhibition, University of New Orleans
Publications
Soul of the Home, Designing with Antiques, Tara Shaw, 2020, p.99
Veranda Magazine, June 2015, p. 136, 138
New Orleans New Elegance, K. McCafferty, 2012, p. 205
Mobile Bay, Feb 2010
Delta Magazine, May 2009
Louisiana Homes and Gardens (cover), March 2009
Mississippi, Best of Mississippi 2007, July/August 2007
O At Home, Winter 2006
Architectural Digest, July 2005
Veranda (cover), June 2005
Torino Belt Catalog, Spring 2004
The Majesty of St. Charles Avenue, K. McCaffety and C. R. McCaffety, 2001
New Orleans Homes and Lifestyles, Spring 2001
Decor (cover), October 1990
Baton Rouge State-Times, April 1987
Louisiana Now, Contemporary Art Center, September 1986
Private and Corporate Collections
Bank Plus, Main Office, Jackson, MS
Bank Plus, Wealth Management, Jackson, MS
Bernard, Casslsa, Saporito & Elliott, Attorneys, Metairie, LA
Brener Law Firm, LLC, New Orleans, LA
Commander's Palace, New Orleans, LA
Desiree Rogers, Chicago, IL (Social Secretary for President Barack Obama)
Emeril Lagasse, New Orleans, LA and New York, NY
Emily and Mike Dunleavy, Beverly Hills, CA (Coach, LA Clippers)
Freeport McMoRan, Inc., New Orleans, LA
Gordon, Arata, McCollam & Duplantis, Lafayette, LA
Kean Miller Hawthorne D'Armond McCowan & Jarman LLP, Baton Rouge LA
Leviton Manufacturing Co, Inc. New Orleans, LA
Martzell, Thomas & Bickford, Inc., New Orleans, LA
Melanie and Manny MItchell, Palm Desert, CA
Metropolitan Bank, Madison, KS
Montgomery, Barnett, Brown, Read, Hammond & Mintz, Attorneys, New Orleans, LA
Phelps, Dunbar, Marks, Calverle & Sims, Baton Rouge, LA
Pileum Corporation, Jackson, MS
Reggie Bush (of the New Orleans Saints)
Senga Interior Design, San Mateo, CA
St. James Hotel, New Orleans, LA