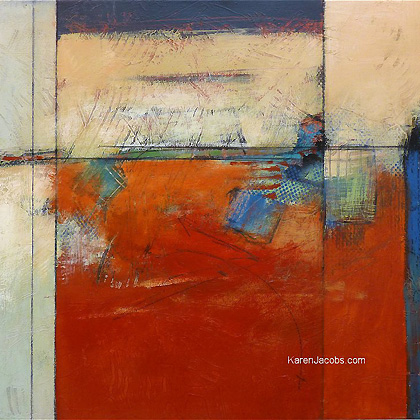 "Cross Purposes"
KAREN JACOBS
Statement
An ongoing interest in the linear juxtaposition of remnants and patterns has led much of my work to be classified as geometric abstraction. Organized by divisions which aren't always precise and shapes which tend to stack and interlock, the work may remain totally abstract or venture into suggestions of landscape.
There is, perhaps, a seed of an idea when I begin but I am quickly directed by the work, answering the needs, sorting the puzzles and discovering solutions. I work with layers of thick and thin color, washed or scumbled over a textured surface. Traces are left by the pentimento of assorted mark makers and scrached or removed paint; lines are straight, curved or gestural, surfaces are wiped, dripped and spattered; all adding to an eventual sense of accumulation and the essence of time.
Though most paintings are acrylic/mixed media on canvas, I often venture into other media such as oil, watercolor, encaustic and ink… in addition to other painting forms such as the structural boxes I call Pylons which may be either wall hung or free standing.
Selected Solo or Featured Exhibitions
2013, 2011, 2005, 2003 – Carol Robinson Gallery, New Orleans, LA
2012 – 'Spring', Renaissance Gallery, Northport, AL
2009 – 'Then and Now', The KennedyDouglass Center for the Arts, Florence, AL
2009, 2003, 2002, 1998 – Lagerquist Gallery, Atlanta, GA
2007 – 'Bokusho', Perry Nicole Gallery, Memphis, TN
2007 – 'Bokusho', NorDys Gallery, Birmingham, AL
2005 – 'Timelines', NorDys Gallery, Birmingham, AL
2004 – 'Contrasting Views', Meridian Museum of Art, Meridian, MS
2000, 1998 – Wyndy Morehead Fine Arts, New Orleans, LA
1997, 96 – Renaissance Gallery, Northport, AL
1994 – Mississippi Gulf Coast College, Gautier, MS
1994 – Patio Gallery, Covington, LA
Selected Group Exhibitions
2013 – 'Grand Opening Gala', Kristin Johnson Fine Art
2004 – 'Monotype 2004' Traveling exhibition, Louisiana
2002 – Waxlander Gallery, Santa Fe, NM
2002 – 'New Blood', Finer Things Gallery, Nashville, TN
2002 – Carol Robinson Gallery, New Orleans, LA
2001 – 'Time and Space', Waxlander Gallery, Santa Fe, NM
2000 – 'Of Time and Timelessness', Wyndy Morehead Fine Arts, New Orleans, LA
2000, 1999 – WARD Gallery, Harbor Springs, MI
1998 – 50th Aniversary, Mississippi Art Colony Retrospective, Lauren Rodgers Museum, MS
1995 – 'Knot Just Grass, A Review of Three Series', William Carey College, Hattiesburg, MS
1994 – American Watercolor Society, 142nd Annual Knickerbocker Club, New York, NY
Honors and Awards
Alabama Arts Council Grant for the Governor's Arts Awards
National Galleries Endowment Award, 73rd National Watercolor Society Exhibition
Artist Residency, Cat'Art, Sainte Colombe sur l'Hers, France
First Place, 23rd Louisiana Watercolor Society International Exhibition
Collections
Birmingham Museum of Art, AL
Huntsville Museum of Art, AL
Montgomery Museum of Fine Arts, AL
Fine Arts Museum of the South, Mobile, AL
Alabama Power Company, Birmingham, AL
Butler Snow Law Firm, Memphis, TN
NSA Corporation, Collierville, TN
Adams Reese Law Firm, Memphis, TN
Regions Insurance Group, Memphis, TN
Wolfchase Nissan, Memphis, TN
Paragon National Bank, Memphis, TN
Alabama Governor & Mrs. Fob James
Winton Blount Southern Regional Collection, AL
Guild Hardy Architects, Biloxi, MS
Sac's Fifth Avenue, Houston, TX
Hotel Parc St. Charles, New Orleans, LA
General Consul of Italy, New Orleans, LA
City of New Orleans Parkway & Park Commission, LA
AmSouth Bank, Montgomery, AL
Southeastern Conference Headquarters, Birmingham, AL
Deposit Guaranty National Bank of Mississippi, Jackson, MS
Trustmark Bank, Meridian, MS, McComb, MS
Bradley, Arant Collection, Birmingham, AL
Nelson, Mullins, Riley & Scarborough, Atlanta, GA
Related Education
Maryland College of Art and Design, Silver Spring, MD