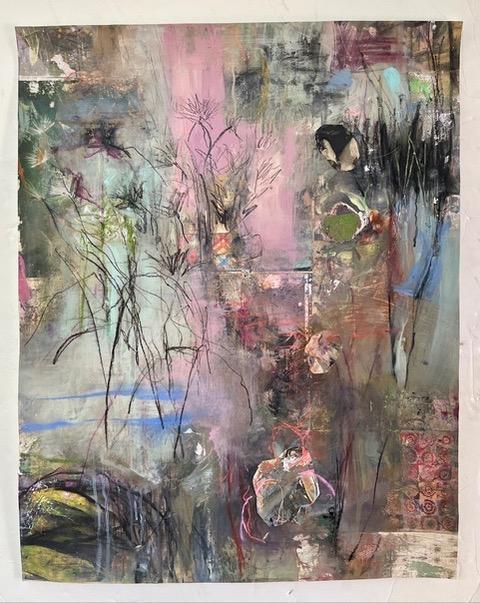 "Delicate Drift" 37″x31″ mixed media on paper
MARY HARDY
Layered Wanderings-
My work is an exploration of depth and surface, past & present incited by the transformational qualities of dream, memory, historic and familial myth and lore.
Pieces of images come from these places triggered by a thought or experience.
I take those pieces and I start fitting them together, layering, painting, drawing, sewing and collaging. I work intuitively until a new relationship starts to evolve. I love the mysterious. I do not always know where the work will take me and have learned to trust and love the process.
I love RAW textured SURFACES because they reveal their life lived AND…I love deep, quiet, dreamy ATMOSPHERIC SPACES that instill rest and reflection. Between these two realms is where my images exist.
The photographic elements I use have an unknown mysterious quality that is intriguing to me as well. Containing their own "history"(most, unknown), they serve as a way of looking back in to the past initiating wonder. I use various other collage materials that have a more actual tactile quality which causes them to exist literally on the surface and therefore, in the present.
Layering a variety of media, I form atmospheric spaces and raw textured surfaces to create a movement from back to front a falling and rising. I apply many layers of materials "wandering" between surface and depth, past and present. -Mary Hardy
EDUCATION
* 1989 Master's of Art Education, University of South Alabama, Mobile, Alabama
* additional studio graduate work done at Arrowmont through the University of Tennessee
* 1979 B.S. Art Education, University of South Alabama, Mobile, Alabama
* career wide (1981 to date) numerous studio-based workshops taken with professors from;
Pratt Institute, New York, NY, Atlanta College of Art, GA, Pennsylvania Academy of Art, PA, Art Institute of
Chicago, IL, Savannah College of Art, GA, University of Houston, TX, University of Florida, FL, Louisiana Tech
University, Ruston, LA, Louisiana State University, LA, Auburn University, AL, University of Mississippi, MS,
Nichols State University, LA, University of California, Berkley, CA
SOLO EXHIBITIONS
2019 "Bits and Pieces;Dream, Memory, Myth, Lore" The Mary C. O'Keefe Cultural Center, Ocean Springs, MS
2018 "Varying Images; Same Path" South Arkansas Arts Center El Dorado, AR
2016 "Inspirations From the Collection Box" Smith & Lens Art Gallery, Bay St. Louis, MS
2016 "Under, Over, Reconfigured" Jones County Junior College, Ellisville, MS
2014 "Surfaces and Symbols" Carol Robinson Gallery, New Orleans, LA
2012 "An Inventory of Images; My Alphabet", Mississippi Gulf Coast Community College, Gulfport, MS
2008 "An Empty Presence", Wiregrass Museum of Art, Dothan, AL
SELECTED GROUP EXHIBITIONS AND AWARDS
2019 The Art of the Word: Color, Rhythm, Image The Mary C. O'Keefe Cultural Center Ocean Springs, MS
2017 Metaphors and Observations, 2 artists Almost Circle Gallery, Biloxi, MS
2017 Blame It On The Brush 3 artists, Ohr-Okeefe Museum of Art, Biloxi, MS
2017 No Coincidences: works by Mary Hardy & Michael Maxwell exhibit of work done for the Land Trust Mississippi
Coastal Plain artist residency at 12 Oaks, Ocean Springs, MS
2016 Mark Makers; Making Marks, Almost Circle Gallery, Biloxi, MS
2016 accepted in to the South Arkansas Art Center's National Juried Competition, juror, Alejo Benedetti, curator Crystal
Bridges Museum of American Art
2014 invitational group show, "Tides and Currents; Contemporary Art Along the Gulf Coast", South Arkansas Arts
Center, El Dorado, AR
2013 group show MS Arts Commission Fellowship Awardees Oddfellows Gallery, Hattiesburg, MS
2012 Bring a Friend, invitational summer show, Lois Lambert Gallery, Santa Monica, CA
2012 two works accepted in to the South Arkansas Art Center's National Juried Competition, juror Manuela Well-Off-Man, Curator, Crystal Bridges Museum of American Art
2011 Within Sight of Land, 10 Artists of the Gulf Coast, invitational at the South Arkansas Arts Center, El Dorado, AR
2011 Inspirations A Juried Exhibition, Walter Anderson Museum of Art, Ocean Springs, MS juror Bradley Sumrall,
Ogden Museum of Southern Art
2010 work included in "B10 / The Wiregrass Biennial" held by the Wiregrass Museum of Art, Dothan, AL
FELLOWSHIPS, GRANTS, RESIDENCIES
2017 Mississippi Arts Commission mini-grant
2017 Four month Artist Residency with the Land Trust for the Mississippi Coastal Plain
2013 Recipient of the Mississippi Arts Commission Visual Arts Fellowship
2010 Artist Mini-grant for study from the Mississippi Arts Commission
2010 fellowship from Anderson Ranch, Colorado to study with Chicago, IL artist Tony Fitzpatrick
ADDITIONAL PROFESSIONAL ACTIVITIES AND AWARDS
2018 juror for the Eastern Shore Arts Center Fine Arts Show Fairhope, Alabama
2017 juror for Mobile Watercolor and Graphic Arts Society annual show Mobile, AL
2017 Awarded a 4 month Artist Residency for the Land Trust for the Mississippi Coastal Plain
2016 my work was used in the movie "Mississippi Murder" to represent the artwork of the heroine
2015 juror for "Arts Alive" annual juried competition The Arts Hancock County, Bay St. Louis, MS
2014 juror for Slidell Cultural Center "Salad Days" juried student exhibit
2013 juror for St. Tammany Art Association National Juried Exhibition Summer Show, Covington, LA
2013 taught workshop on monotype, The Mary C. O'Keefe Cultural Center for Arts and Education, Ocean Springs, MS
2012 wrote a Regional Update for Number: 71, An Independent Arts Journal for MS, AR,
2013< 2010 Curator for the Albert Duckett Gallery/ Mary C. O'Keefe Center for Arts and Education,
Ocean Springs, MS
2007< 1999 Instructor of Drawing and Painting, MS. Gulf Coast Community College Gautier, MS
2007< 2000 Gallery Director, MS Gulf Coast Community College, Jackson County Campus
2010 served as a panelist for the "Director's Artist Forum" for the Walter Anderson Museum of Art "Building, Living
and Working in a Creative Community"
2010 taught a 3 day workshop "Developing Your Personal Symbolism" in Vicksburg, MS
2009 Judge for Gumtree Art Festival, Tupelo, MS
PROFESSIONAL AFFILIATIONS
* Mississippi Arts Commission / Mississippi Visual Arts Directory www.msvisualarts.org
* artwork represented by Carol Robinson Gallery, New Orleans, LA www.carolrobinsongallery.com
* included in the book Art in Mississippi author Patti Carr Black
* MS State Committee and National Museum of Women in the Arts
* past president (2001) of the MS Community College Art Instructors' Association* Corporate Art Program Mississippi Museum of Art , Jackson, MS.
* Mississippi Art Colony President 2005- 2007 /member of the Board of Directors 2002-2005 www.msartcolony.org
WORKS IN COLLECTIONS OF
*Land Trust Mississippi Coastal Plain
*Dr. William La Forge, President, Delta State University, Cleveland, MS
*Paul Bonge', The Dusti Bonge' Foundation, Biloxi, MS
*Barrowclough Construction, Beverly, MA
*Singing River Medical Park Wellness Center, Pascagoula, MS
*KFK Group Canal St, New Orleans, LA
*Wiregrass Museum of Art, Dothan, AL
* Lawrence Leyens, Mayor of Vicksburg, MS
*Carpenter-Wild Associates, Fort Worth, TX
* First National Bank of the South
* Deposit Guaranty National Bank
* Trustmark National Bank
* Munro Petroleum
* Corporate Art Collection of Peat Marwick, International Accounting Firm, Jackson, MS
* William Carey College President's Collection, Hattiesburg, MS.
* Rushing and Guice, attorneys-at-law, Biloxi, MS.
* Robert Byrd, attorney-at-law, Biloxi, MS.
* Bill and Nancy Yates, Yates Corporation, Starkville, MS.
* Joseph F. Garr, Jr., attorney-at-law, Lafayette, LA.
* Nick Morphus attorney-at-law, New Orleans, LA.
* Mississippi Court Reporters
* Ocean Springs Chamber of Commerce, MS