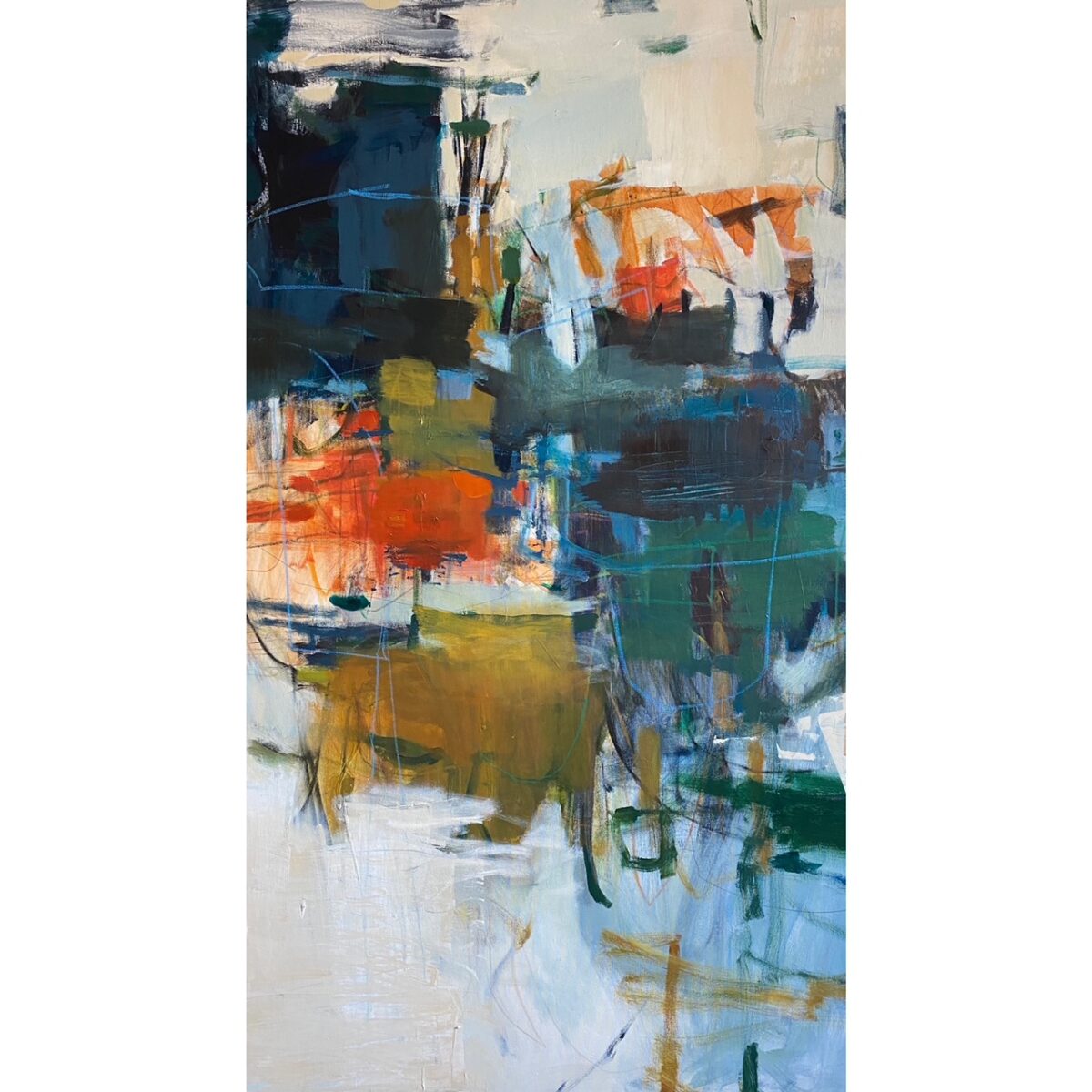 "Montreat Light" 52×30 acrylic on canvas.
NELL C. TILTON
Statement
Images surround me in my native city of New Orleans and in Louisiana. Whether relating to water, land or an urban setting, those images often serve as a springboard for my non-pictorial art. I also gather inspiration from the natural beauty of places I have visited and file those in my memory which later provides a stimulation for my work.
I'm intrigued with the rhythm, cadence and flow of both the land and water. Each has its own unique characteristics. With these paintings, my impressions and expressions have emerged and are demonstrated in the concept of abstraction.
—Nell C. Tilton
Solo Exhibitions
2018- Carol Robinson Gallery- "Rhythms: Earth & Water"
2016 – Carol Robinson Gallery, "Transformations"
2011 – Carol Robinson Gallery, "Blueprints: Reflections of Modern Design"
2009 – Carol Robinson Gallery, "Deconstructed: An Impression of Vanishing Treasures"
Selected Exhibitions
2014 – New Orleans Academy of Fine Arts, "New Year, New Work", group invitational
2012 – New Orleans Academy of Fine Arts, Self-portrait invitational
2010 – New Orleans Academy of Fine Arts, "The Human Figure", group invitational
2009 – New Orleans Academy of Fine Arts Drawing Invitational
2003-2015 – New Orleans Academy of Fine Arts, Faculty Exhibition
1997-2015 – New Orleans Academy of Fine Arts, Annual Christmas Miniature Exhibit, group invitational
2008 – 40 Days 40 Nights, Invitational Katrina Exhibit, Baton Rouge Louisiana Archives Building, Baton Rouge, LA
2004-2015 – Carol Robinson Gallery, Annual Christmas Show, group exhibit
2007 – La Nouvelle Salon, World Trade Center, New Orleans, group exhibit
2006 – New Orleans Academy of Fine Arts, Katrina (Hurricane) Exhibit, group invitational
2006 – Femme Fest, group exhibit honoring Women in the Arts
2006-2010 – Carol Robinson Gallery, Artists of Faith, City of Faith, group invitational
2006 – New Orleans Academy of Fine Arts, Mardi Gras Exhibit, group invitational
2004 – The Louise Finke Watercolor Exhibition, St. Tammany Art Assoc., Covington, LA, group invitational
2004 – New Orleans Academy of Fine Arts, 2-person show
2000 – Art in Bloom, New Orleans Museum of Art, participating artist
1994 – Nathaniel Curtis Gallery, New Orleans, LA, 3-person exhibition in conjunction with Art for Arts Sake
1992 – Evans Gallery, New Orleans, LA, watercolor and figure drawings, 2-person show
1988 – Nathaniel Curtis Gallery, New Orleans, LA, solo exhibit in conjunction with Art for Arts Sake,
Selected Juried Competitions and Awards
2013 – Selected for Steven Aimone's Master Series Residency, Atlantic Center for the Arts, Florida
2008 – Louisiana Watercolor Society 38th Annual International Exhibition, Brigit OÕConnor, Juror
2005 – St. Tammany Art Association 40th Juried Artists Exhibition
2005 – "Art with a Southern Drawl", University of Mobile, juried show, two paintings accepted
2004 – Louisiana Art and Artists' Guild, 35th Annual River Road Show
2004 – Artworks for the Earth, 1st Annual Juried Exhibition, Duque Art Center, New Orleans, LA
2003 – Louisiana Artists: An All Media Show, Baton Rouge, LA
2003 – Louisiana Watercolor Society 33rd Annual International Exhibition, juried competition
2003 – 34th Annual River Road Show, Baton Rouge, LA
2001 – Fresh Art Festival, Juried Festival sponsored by the Arts Council of New Orleans
2000 – Associated Women in the Arts, Baton Rouge, LA,
1996 – Louisiana Watercolor Society Member Show, Honorable Mention
1995 – Louisiana Watercolor Society 25th International Exhibition, juried competition
1993 – Artist Guild of W. Feliciana Art Show, St. Francisville, LA, First Place
1992 – New Orleans Academy of Fine Arts Student Show, Honorable Mention
1992 – Juried Louisiana Watercolor Society Member Show, 2nd Place, Honorable Mention
1991 – Recipient of the Shirley Lemann Creativity Award, New Orleans Academy of Fine Arts
Education
1966 – AA, Mount Vernon Junior College, Washington, D.C.
Newcomb College, New Orleans, LA
1988-1998 – Extended study at the New Orleans Academy of Fine Arts, New Orleans, LA
Workshops with nationally and internationally known artists such as: Katalin Gergo, Alex Powers, Jean Dobie, Lauren Zarambo, Tony Couch, Robert McCoy, Marilyn Hughey Phyllis, Cheng Khee Chee, Allison Stewart, Katherine Chang Liu, master printer Craig OÕBrian, John T. Scott, Steven Aimone, Audrey Phillips, Krista Harris, Martica Griffin
Affiliations
Louisiana Watercolor Society (Signature Member)
Arts Council of New Orleans
Contemporary Arts Center, New Orleans
St. Tammany Art Association
Teaching
2004-2003, August – Instructor of Abstract Art, workshop for adults, The Colony at Country Day, Metairie, LA
2002 to present – Instructor of Abstract and Experimental Art, New Orleans Academy of Fine Arts
Featured Publications
Professional Artist Magazine, May 2012, Spotlight Artist, Nell C. Tilton
New Orleans Homes and Lifestyles Magazine, Fall, 2011, Artist Profile, Nell Curtis Tilton
Studio Visit magazine, Volume Five, 2009
Studio Visit magazine, Volume Four, 2008