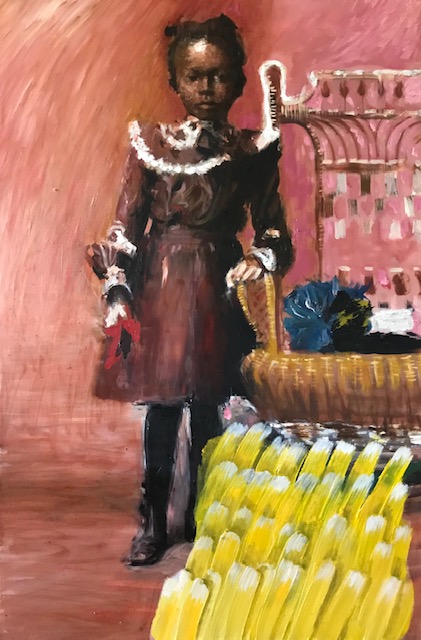 "Blue Bow" 36″x 24″ oil on canvas.
NOAH SATERSTROM
History of Looking, a solo exhibition September 2019-
Artist statement:
History of Looking is a tribute to the photographs of Norman Studio in my hometown of Natchez, Mississippi. Henry Norman photographed, among many other subjects, children of Natchez throughout the Victorian and Edwardian eras; my own great grandmother, Ethel, was among the sitters.
"I want a History of Looking. For the Photograph is the advent of myself as other: a cunning dissociation of consciousness from identity." – Roland Barthes, from Camera Lucida
About the Artist
Noah Saterstrom is a painter, raised in Mississippi, and educated at the Glasgow School of Art. In addition to his primary media of painting and drawing, he has written essays, made video works, animations, and text/image collaborations with writers. He has been represented by the Carol Robinson Gallery since 1998.
Education
2001 – MFA Glasgow School of Art, Glasgow, Scotland
1998 – BFA University of Mississippi, Oxford
Selected Solo Exhibitions
2015 – When We Were Sun-Worshippers, La Esquina, New York, NY
2015 – To Match Our Dreams of Perfection, Carol Robinson Gallery, New Orleans, LA
2015 – Faces, C3, Nashville, TN
2015 – End of Summer, Caron Gallery, Tupelo, MS
2013 – Float Me Down the River, Carol Robinson Gallery, New Orleans, LA
2012 – Text/Image Collaborations, Counterpath Press, Denver, CO
2011 – Soldatesque, Collaboration with Anne Waldman, UA Poetry Center
2011 – 5 Text/Image Collaborations, Holden Gallery, Warren Wilson College
2010 – Now We'll Decide Who Comes From Where, Carol Robinson Gallery, New Orleans, LA
2009 – Bunny Magic, Ugly Duckling Press, 6×6 Journal, Shelton Walsmith Studio, Brooklyn, NY
2009 – Lost & Found, I Love You Central School Project, Bisbee, AZ
2007 – Offertory, Carol Robinson Gallery, New Orleans, LA
2006 – Memory [Memory] installation, Lodging House Mission, Glasgow, Scotland
2006 – Memory Continued installation, Warrington, England
2006 – Katrina Projects Presents: Hospitality State Drawings Blue Door Series, Raleigh, North Carolina
2005 – Portfolio Gallery, Yorkshire, England
2004 – New Work, Artbank, Glasgow, Scotland
2003 – Excavations on a Good Day, Carol Robinson Gallery, New Orleans, Louisiana
Group Exhibitions
2013 – Devotion Exhibition, Hedreen Gallery, Seattle, WA
2011 – Yeah! Collective's Put Another Hat on the Fire, Alice Coltrane Coliseum, Portland, OR
2010 – Empty Houses, video installation, Scottsdale Public Art
2009 – Works on Paper Invitational, Hilo, HI
2008 – Pacific States Biennial Print Exhibition, University of Hawaii, Hilo, HI
2008 – "Home is Where the ________ Is", Contemporary Arts Exchange, Macon, GA
2008 – Bull City Arts Collaborative Invitational Group Show, Durham, North Carolina
Honors and Awards
2013 – Artist-in-residence, Exploded View Micro-cinema, Tucson, AZ
2010 – Guest Curator, Bunny Magic II group exhibition, Central School Project, Bisbee, AZ
2009 – Artist-in-Residence, Central School Project, Bisbee, AZ
2008 – Recipient, Bisbee Arts Council Project Grant
2005 – Visual Arts Fellow, Virginia Center for the Creative Arts (VCCA), Amherst, Virginia
2005 – Public Artworks Project Grant, Arts and Business, Edinburgh, Scotland
2005 – Artist-in-Residence, Morris and Spottiswood, Glasgow, Scotland
2004 – Head Judge, South Carolina State Fair Art Competition
2003 – Guest tutor, MFA and Painting Department, Glasgow School of Art, Glasgow, Scotland
2001 – Isle of Arran Distilleries Graduate Student Fellowship
2000 – Artist-in-Residence for HRH Prince of Wales, Palace of Holyroodhouse, Edinburgh, Scotland
Organizations
2008-Present – Founder/Curator, Trickhouse.org, Cross-disciplinary Arts Journal
2010-2014 – Co-organizer, Trickhouse Live performance series, Casa Libre en la Solana
2010-2014 – Board Member, Casa Libre en la Solana
2010-2013 – Grants Committee Member, Tucson Pima Arts Council
Publications
2015 – Periodic Companions, book by Laynie Browne, images by NS
2015 – Babboo's Moving Pictures, animation, Drunken Boat #22
2013 – Floater, book by Kate Bernheimer, images by NS, Origami Zoo Press
2013 – A Conversation with Timothy Hyman, interview, Trickhouse.org
2011 – Soldatesque/Dreams of Wartimes (with text by Anne Waldman), Blaze Vox Books
2011 – Wastrels Hatch a Plan (with text by Kate Bernheimer), Drunken Boat #14
2011 – Symmetry, collab. Timothy Dyke, The Spirit of Black Mountain College, Lorimer Press
2010 – Ghosty (with text by Kristen Nelson), Drunken Boat #11
2010 – Food Signs of The United States, interactive map, Trickhouse, vol 4
2009 – Empty Houses, 30min video essay
2007 – Amateur Art: an essay / Denver Quarterly, Spring
2007 – Figures for a Darkroom Voice, Tarpaulin Sky Press
Book and Journal Covers
2014 – The Scorpyn Odes, Laynie Browne, Kore Press
2014 – That Our Eyes Be Rigged, Kristi Maxwell, Saturnalia
2014 – The Tranquilized Tongue, Eric Baus, City Lights Books
2013 – Brushes with, Kristina Marie Darling, Blaze Vox Books
2013 – Love, by Gordon Massman, New York Quarterly Press
2013 – In the Laurels, Caught, by Lee Ann Brown, Fence Books
2013 – Brushes with, by Kristina Marie Darling, Blaze Vox Books
2013 – Drawing Water, by Eva Heisler, Noctuary Press
2013 – No Face at All, Love Poems, by Gordon Massman, New York Quarterly Press
2013 – Sin Eater & Other Stories, by Elizabeth Frankie Rollins, Queens Ferry Press
2012 – Half of What They Carried Flew Away, by Andrea Rexilius, Lettermachine Press
2011 – 0.174, by Gordon Massman, New York Quarterly Press
2011 – Not Merely Because of the Unknown That Was Stalking Toward Them, by Jenny Boully, Tarpaulin Sky Press
2010 – Black-Eyed Heifer, by Shelly Taylor, Tarpaulin Sky Press
2001-08 – Essential Numbers, 2001-2008, by Gordon Massman
Teaching, Visiting Artist & Lectures
2015 – WordPress for Artists, Watkins College of Art and Design, Nashville, TN
2015 – Text/Image Workshop, Paperworks, Tucson, AZ
2014 – Guest Lecturer, New School for Public Engagement, School of Media Studies, NY
2014 – Paperworks, Tucson, AZ
2013 – Guest Lecturer, New School for Public Engagement, School of Media Studies, NY
2012 – Panel Moderator, Poetry Off the Page Symposium, UA Poetry Center
2011 – Text/Image Tinies course, with Kristen Nelson at UA Poetry Center
2011 – Guest Lecturer, University of Dallas
2011 – Guest Lecturer, Warren Wilson College
2011 – Guest Lecturer, Appalachian State University
2011 – Guest Lecturer, Western Carolina University
2010 – Text/Image workshop with Kristen Nelson, Central School Project, Bisbee, AZ
2010 – Guest Lecturer, University of Arizona Poetry Center
2010 – Guest Lecturer, University of Arizona Art Department
2010 – Publishing Panel, Fairfield University Creative Writing MFA, Mystic, CT
2010 – Empty Houses video screening and presentation, New Jersey Institute of Technology
2009 – Empty Houses video screening and presentation, Katrina Conference, University of Denver
2009 – Plaster casting workshop, Central School Project, Bisbee, AZ
2008 – Guest Lecturer, University of Arizona, Tucson, AZ
2007 – Guest Lecturer, Naropa University Summer Writing MFA, Boulder, CO
2003-06 – Art Faculty, Warren Wilson College, Swannanoa, North Carolina
2005-06 – Gallery Director, Holden Gallery, Warren Wilson College