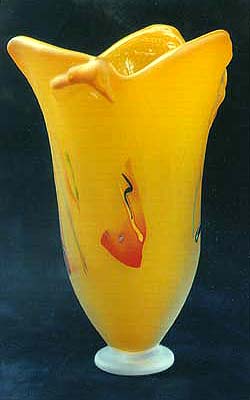 Untitled
RODDY CAPERS
Statement
I work in a distinct style which is different from any other glass blower or sculptor. All of my pieces are one of a kind and people who own my work know they have an original piece of art.
The glass work is free blown and hot worked and comes in a variety of styles, colors, sizes, textures and elements.
They may be transparent, opaque or sandblasted (frosted), electroformed, welded and whatever else I can throw in to add to the confusion of what I do everyday.
Selected Solo Exhibitions
2000 – 'Illuminations', Vitrum Gallery, Asheville, North Carolina
1999 – 'Spotlight on Southern Artists Exhibition', Eclectic Electric, Atlanta
1994 – Handblown glass, Academy Gallery, New Orleans
1984 – Birmingham Museum of Art Juried Exhibition, Birmingham, Alabama
Honors and Awards
1981 – First Place, Birmingham Museum of Art Juried Exhibition, Birmingham, Alabama
Education
1991 – MFA, Sculpture and Photography, University of Alabama
1976 – BFA, Photography, Art History and Ceramics, University of Alabama
1979-94 – Penland School of Crafts, Penland, North Carolina