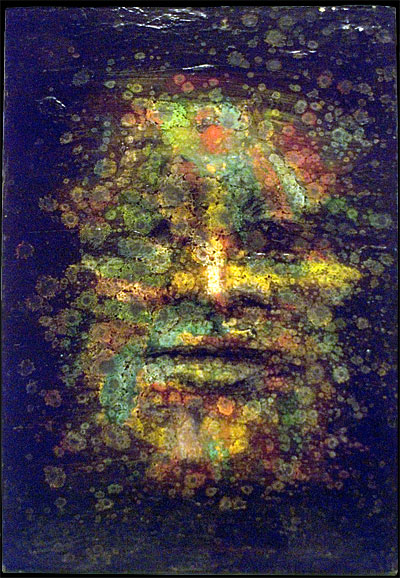 "Mottled Portrait"
WALTER CRUMP
Walter Crump
Statement
For me, painting is a kind of alchemy of controlled accidents, random play and unexpected relationships that acquire significance in the making and layering the surface. Imagery aside, my work reflects a love affair with surface and relies increasingly on working with translucent mediums, like shellac, as well as odder substances including metal patinas, powders and photographic chemicals. As layers are built up, the earlier areas remain dimly visible beneath, playing a role in the outcome of the finished work. In this sense, the surface becomes an archeological record of the making of the painting.
My recent work consists of a series of abstract paintings and altered/painted photographic portraits.* I seek ways for these compositions to look as if they are suggestive of an indecisive age, in which they could have been altered or embroidered over the years, perhaps by others who might have come into contact with them. Along the way, they become luminous wrecks, leaving surface maps chronicling the signs and blemishes of creative use and images that have been tainted by the sun, weather and the seasons.
* ANAMORPH PINHOLE PHOTOGRAPHS are made with the "Omniscope", an ingenious anamorph (or controlled distortion) pinhole camera designed by Matt Abelson. The camera uses 120 film, which circumvents the inside of a cylinder. The pinhole is on top of the cylinder i.e., it would be on the lid of one of my cylinder cameras. Four exposures can be made from a roll of 120 film. Because the length of the negative is seven inches – too long my 4″ x 5″ enlarger – I scan the black & white negatives into Photoshop where they are "toned" and printed out on an ink jet printer.
UNIQUE PINHOLE PRINTS are contact prints, bleached and toned S.G.P., made from 16″ x 20″ paper negatives. The camera is made from an 10″ diameter x 17″ sona tube. The paper negative is wrapped almost completely around the circumference of the camera. Most of my 16″ x 20″ cameras have two lenses – one in the center of the camera and one about 1/3 off center. With the centered lens the horizon line is always in the center of the image unless the camera is tilted off center. The off center lens skews the image by placing the horizon line 1/3 above or below the center. I never use both lenses at the same time, but I often put two or more lenses in my cameras.
Selected Solo Exhibitions
1998 – 'Altered Cameras, Altered Images', Photographic Resource Center, Project Room, Boston
1997 – 'An Exhibition of Pinhole Camera and Photographs', Carpenter Center, Harvard University, Cambridge, Massachusetts
1995 – 'Pinhole Photographs from Boston and Pakistan', Gallery One, New England School of Photography, Boston
1995 – 'Gatherings' (paintings and painted photographs), Carol Robinson Gallery, New Orleans
1993 – 'Beyond the Instant Image', American Center, Islamabad, Pakistan
1985 – Taler Gallery Fort, Barcelona, Spain
Group Exhibitions
1999 – Sixth Annual Photography Show, Rice/Polak Gallery, Provincetown, Massachusetts
1999 – 'Boston Photographers', Wiggens Gallery, Boston Public Library, Boston
1996 – 'Gleaning Light', Survey of Contemporary Pinhole Photography, Photographic Archives Gallery, Dallas, Texas
Honors and Awards
1991-93 – Fullbright Fellowship
1975-76 – Ingram Merrill Foundation Fellowship
1985 – Purchase Prize, Rockford International Biennial, Rockford College, Rockford, Illinois
1980 – Purchase Prize, Small Print Exhibition, Purdue University, West Lafayette, Indiana
1976 – Purchase Prize, SECCA Biennial Exhibition, Winston-Salem, North Carolina
1974 – Simms Purchase Prize, Los Angeles Printmakers Exhibition, Los Angles
Collections
Fogg Art Museum, Harvard University, Cambridge, Massachusetts
Philadelphia Museum of Art, Philadelphia
National Museum of Art, Smithsonian Institute, Washington, D.C.
Education
BFA, School for the Arts, Boston University